We need your help. Each and every concert will have a such topic. If you find something connected with this particular gig, post it in the comment section. Thanks for your help and cooperation!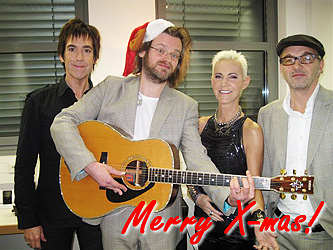 Photos:
Per Gessle's comments:
Halfway thru the Erfurt-gig I must say that the crowd is totally connected, loving every second of what we do. It's a great feeling. Yes.

Wunderbar gig in Erfurt. Thanx everyone for making it so easy for us. Early rise tomorrow headin' for Bayern. Jolly Munich – here we come!
Official videos:
Erfurt, we love ya | Danke, Erfurt | Mental hospital | Bus 1 | Bus 2
Fans stories:
YouTube clips:
Joyride/Listen to your heart | It must have been love | The Look
Media reports/reviews:
Thüringer Allgemeine: "A night full of feelings" | TLZ: "Earworm* mix"
*There's still no English word for Ohrwurm, right? 😉 S.