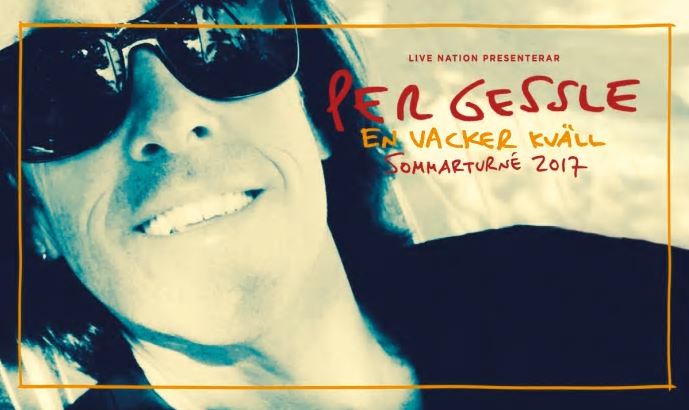 Just in! Per is going on tour next summer! A new album is also on the way.
En vacker kväll. Sommarturné 2017 is the name of the tour. Tickets go on sale on Thursday November 24th. Here are the dates.
6/7 Helsingborg
7/7 Oskarhamn
8/7 Örebro
13/7 Rättvik
14/7 Töreboda
15/7 Karlskrona (festival)
21/7 Grebbestad
22/7 Göteborg
23/7 Fredrikstad (festival)
27/7 Stockholm
28/7 Östersund
29/7 Piteå
1/8 Borgholm
2/8 Malmö
3/8 Arvika
11/8 Halmstad
12/8 Linköping
18/8 Uppsala
19/8 Eskilstuna
Message from Per:
Så här skriver Per själv om turnén:
Det är dags att ta en musikalisk selfie!
Jag har skrivit låtar och varit artist i 37 år. Helt klart lyckligt lottad. Tre karriärer har det blivit. En med Roxette, en med Gyllene Tider och en alldeles solo. Alla tre är olika men ligger lika nära mitt hjärta och bär mitt personliga DNA och nu, till sommaren 2017, tänkte jag blanda om i min gryta och spela låtar jag skrivit som betytt extra mycket för mej. Både från Roxette, Gyllene Tider och från min soloresa. Det känns rätt. Och på tiden.
Det är tio år sedan jag gjorde ett svenskt album och en turné i Sverige på egen hand. Hoppas vi syns någonstans i den vackra sommaren.
P.
English:
It's time to take a musical selfie!
I've been writing songs and has been an artist for 37 years. Clearly fortunate. It has been three different careers. One of Roxette, one with Gyllene Tider and solo. All three are different but as close to my heart and bear my personal DNA, and now, in summer 2017, I thought to make a mix and play songs I've written that have a special meaning for me. From Roxette, Gyllene Tider and from my solo trip. It feels right. And the right time.
It is ten years since I did a Swedish album and a tour in Sweden alone. Hope to see you somewhere in the beautiful summer.
P.
A new album will be out in spring 2017. Per comments: "I recorded it in Nashville, I was there for a month and recorded it. It doesn't mean that it will be a country album, but of course there will be influences from Nashvile in the arrangements and feeling. One can say it is the small cousin to Mazarin."